Reiki Level 1 with
Chakra Balancing

Certification Class with CE Credit
Saturday March 10, 2018
9:30am to 4:30pm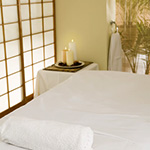 Instructor: Carol Richardson, M. Div., M.P.H.
Learn about hands-on healing and caring for those with a variety of disorders through touch. Become aquainted with the history of healing, Reiki, subo points, Chakra Balancing and how you can use this knowledge to care for others. This class will instruct students in the full treatment process. They will learn how to give a complete touch therapy session.
Level I First level instruction includes meditation, grounding, clearing, self-healing, healing others and group healing. Discuss history, philosophy, benefits of Usui Reiki. The student will receive a first level attunement.
The Chakra Balancing component covers the major chakras, their placement, meaning, colors, and how to give a Chakra Balancing treatment. It assists with grounding and attracting abundance.
Continuing Education Units: 7 CEUs
Fee: $195.00
The class will be held at:
Washington Institute of Natural Medicine
within Potomac Massage Training Institute
8380 Colesville Rd. Suite 600, Silver Spring, MD 20910
(301) 538-9540
Call for further details and to register.